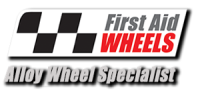 174 Mill Lane, West Heath Yard, Hampstead, London, Greater London, NW6 1TB (Show me directions) Show Map
020 743...Landline Landline 07912 7...Mobile Mobile
Monday to Thursday: 08:30 to 18:00 , Friday: 08:30 to 17:00 , Saturday: 09:30 to 15:00 , Sunday: Closed
Visa, Mastercard, Cash, Paypal, Bank Transfer, Contactless, Apple Pay, Android Pay
Profile
First Aid Wheels provides expert alloy wheel repair and refurbishment in London
In recent years, alloy wheels have become the must-have fashion accessory for any modern car. Alloy wheels add extra definition to a vehicle, their superb performance and eye-catching structure distinguishing them from standard wheels.

What happens, though, if you damage the alloys on your car? Alloy wheels can become damaged easily and might be prohibitively expensive to replace. Indeed, some alloys are so specialised that replacement literally isn't an option. That's why refurbishment is the best action for damaged alloys. Whether you are looking to add value to your vehicle, change its appearance or you simply need to repair accidental damage, alloy wheel refurbishment is the cost-effective way to improve the look and safety of your vehicle.

That's where we come in! We offer an expert alloy wheel repair and refurbishment service that's renowned throughout London and beyond. It's a testament to the demanding standards to which we operate at First Aid Wheels that, in a city as populous as London, we are among the top names in wheel refurbishment.
We offer a comprehensive range of wheel refurbishment services
Whether you're just getting some cosmetic work done on your alloys or you require a full factory service which includes powder coating, diamond cutting and ceramic ball polishing, FA Wheels will happily repair your alloys so that they're as good as new.

We also repair motorcycle wheels and we offer wheel repair services such as straightening and welding. We can fix split rims and brake callipers, so our service is among the most comprehensive and professional that you'll find anywhere in London.


Daily we are refurbishing all wheel types for cars ranging from Audi, BMW, Mercedes-Benz, Ford, Vauxhall etc. through to high-end luxury and sports cars such as Aston Martin, Bentley, Lamborghini, McLaren, Ferrari etc.

We even offer an alloy wheel exchange service whereby we take in your wheels to be fixed and provide you with a replacement set while they are being worked on. Please note that we can only guarantee this service if we have a set of wheels in our shop to match the wheels required for your vehicle.
Testimonials
Really impressed. Such a pleasure when you see an efficient operation.
For some time now, I have wanted to get the wheels on my Bentley refurbished. I wanted a first class job without any hassle.
After researching on the internet, I came across FA Wheels, based in West Hampstead, and thought I would pop down there and check them out.
Within 10 minutes, they had removed my wheels and fitted a loan set. After a further 10 minutes, they had assessed the problem with each wheel and given me options on final finishes of the alloys.
After 3 days, I received a call to let me know the wheels were ready. I have to say, they are absolutely perfect and look factory finish, brand new. I could not be more delighted, and I am not easily pleased!
Within 10 minutes, they had removed the loan set and fitted the newly refurbished ones. A further 5 minutes for the obligatory photos, and I was on my way.
Load More
Testimonials are curated by First Aid Wheels - Alloy Wheel Repair & Refurbishment Experts and are not independently reviewed or verified.
Report a problem with this listing
Offers from our Partners