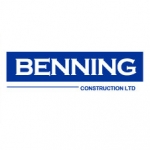 Profile
Benning has operated in the Southern region for over 20 years and developed strong ongoing relationships with Clients in both Residential and Commercial.

With experience in renovation of Grade II Listed Buildings to their original character we have also been involved with Designers in the complete modernisation and contemporary interior design works of such buildings.

Based in Ilford, the company currently boasts a portfolio of Clients in London and surrounding areas. Our current Clients include Local Authorities, Housing Associations, Schools, Property Management Companies and a wide variety of companies with concerns in Commercial, Industrial, Residential and Health Sectors.

We hold an outstanding Health & Safety record and continue to ensure that the adequate resources are provided. Risk Assessments and Methods Statements are carried out where appropriate in accordance with currents CDM Regulations.
Building & Refurbishment
Benning offer a high caliber workmanship at great value to provide a quality and reliable service

We undertake the following Building and Refurbishment works;

*Property Conversions
*Complete Renovations
*Extensions
*Loft Conversions
*Basement Constructions
*Kitchen and Bathroom Design & Installation
*Double Glazed Windows and Doors replacement
*Roof replacements
*External Facades and Redecorating
*Electrical Re-wiring
*Central Heating Installation
*Landscaping
New Build
Benning has the expertise and resources to build your perfect home to NHBC guidelines.

New build properties include;
*Houses
*Flats / Studios
*Health Centres
*Care Homes
*Industrial Units
*Retail Fit Out
Preservation
Surveying & Diagnosis
Our Specialist property Survey Reports and Recommendations are carried out by a Qualified Surveyor. We are also able to quote for any associated works that may be required to enable the remedial works such as removal and reinstatement of fixtures and fittings.

Damp-Proofing : Rising Damp
*Chemical DPC Injections
*Physical DPC Installation
*Specialist Waterproof Render
*20 year Guarantee

Timber Treatment:
*Dry Rot Treatment
*Wet rot Treatment
*Woodworm Treatment – Insect Attack
*20 year Guarantee

Tanking
Traditional Asphalt system
Liquid applied 2 part epoxy resin
Cavity drain system
10 year Guarantee

All guarantees can be insurance backed by the Tallgrove 30 year Assured Guarantee scheme.
Maintenance
We offer a Responsive Maintenance service with trained engineers to work safely in occupied and void premises. Our existing clients include Housing Associations, Property Management Companies, Facilities Management Companies, Commercial Office Blocks and Private Clients.

Emergency Services include the following trades;
*Plumbing
*Heating
*Drainage
*Electrical
*Carpentry
*Roofing
*Boarding up / Glazing
Report a problem with this listing
Offers from our Partners