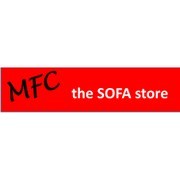 15 Mannesman Close, Llansamlet, Swansea, SA7 9AH (Show me directions) Show Map
Monday to Saturday: 10:00 to 17:00 , Sunday: 10:00 to 16:00
Visa, Mastercard, Cash
Profile
About Us
MFC The Sofa Store has been established for over 37 years offering quality furniture at the very best prices. We have the best contacts across the world in supplying the best value for money furniture available which are perfect for our customers. Our suppliers are the best know brands and include Buoyant, Lebus, TCS, Furnico and Cavendish plus many more.

We have a huge customer base and we are the main furniture supplier to two of the biggest care homes in the UK.

MFC are the most approachable group of people around and have met many customers who we consider friends and not just customers. You can contact us anytime for all your furniture needs - we can assure you we will bend over backwards whatever the size of order.

Come and visit our showroom or visit our website for further information.
Testimonials
Great Service
ordered a suite on Sunday and had delivery on Tuesday which was first class.
Top Class
From start to finish all round the best service I have ever received
Very Relaxed
after being to scs and dfs i was fed up with salesmen but not after meeting Mark here. What a nice guy who is just genuine and didn't try pushing anything on me. In fact i didn't buy as I needed to check my measurements but I will be buying here when I am ready. Laid back, just talked about the swans and Movember!
Still great
Bought a suite from this company 25 years ago and I must say it was the best suite I ever had. Had my new suite delivered from them a month ago and it could beat that one. The son now owns the business and is really good man and I will be going back to buy a pocket memory bed at MFC new bedroom section in the next couple of weeks
Great prices and Quality
The prices here were much better than everywhere else. We had been around all the stores you see advertised on the TV but this place was much better value than everywhere else. They don't offer interest free Credit but I would say about 40% cheaper than places that do and they gave me free delivery to Cross Hands!
Thankyou MFC
Got there at 11:00am in a mission to get a sofa quickly. They delivered a fantastic 3 seater & 2 Seater only cost £650 by 2:00pm same day and free delivery!
Top Service
Had my suite delivered (delivery boys amazing could not do enough) it was too big for my room which was all my fault. Rang up the owner and he said to come down and reselect and the same day delivered me the smaller suite i choose. The best service I have ever had that's why I had to write this.
Deserves Credit
I don't normally write reviews especially good ones!! But this is my second purchase from Morriston Furniture Centre and each time I must say the value is better than anywhere else. I bought a leather sofa of them 8 years ago and its still going strong so I went back after hearing they have a bedroom department and the bed is awesome, it was £349 and I must say is one of the best things I have ever bought. I agree with other people on here also must be the easiest guys to get on with never felt pressured and the salesperson leaves you alone to try out every bed
Much Better Prices
I saw a corner unit in oak furniture land called the Dakota and as about to buy it but my husband said there is a shop around the corner so lucky he did as we had exactly the same corner unit here but £400 cheaper. Well pleased
Top sofa Store
no pushy salesmen just a great shop with brilliant choice and amazing service. I will be recommending everyone I know to buy here
5 ***** service
shopped everywhere for lucy 3+2 leather sofas . best price by far (even internet) ordered and delivered within 2 week's , free delivery .even the delivery boys were brilliant, highly recommended. thank you.
MUCH BETTER PRICES
I saw a suite in Leeks and went down to see these guys as someone told me about them and in fairness they kept to their word and saved me £300 on exactly the same model
Best Prices Around
Just bought a bed from this place. My friends in work were talking about how this store now seels beds and the deals were brilliant. They were right he only had 5 beds on offer but as he said you don't need anymore. Every type of bed available least half the price of all the 100's of beds I have seen over the last few weeks. Well chuffed with my purchase and I will be back before xmas to buy a sofa as there were some really nice ones on offer
Glad i went in
The owner was locking up as i called but luckily he said no problem he will stay open while i look around. Glad i did as i bought a corner unit for £599 and it was over £1000 in other places
Very Caring
I am writing this review to say how much this company done for me. My friend said they would do anything as she had problems with them before but what they did for me was above and beyond and it goes to show that not everyone can be pleased. I bought a 3 seater and 2 seater in brown and after the very polite delivery men delivered it I was very upset as it was too dark for my room. I could not sleep that night and was very emotional about it. I called the shop the next day and explained to the gentleman whom I cant remember his name but I think he was the owner and he said not to worry because I reported it the day after he will see what he can do. He called me back about an hour later and said "Mrs Hughes don't be upset come in and reselect to another suite and we will exchange it for you" I went down there that day and choose a lovely red one and had it exchanged the next day. I am forever grateful and will not have a bad word said against them
Highly Recommended
Very Varied Choice and the owner Mark knows what he is talking about. Between him and his dad they have been in business 35 years and I know why. Highly recommended
Best Sofa Shop
went out to buy a new sofa with some Christmas money I received and this was the best shop by far. a lovely selection and great people working there. They couldn't do enough for me and were not pushy one bit. I would recommend this shop to anyone
Load More
Testimonials are curated by MFC The Sofa Store and are not independently reviewed or verified.
Report a problem with this listing
Offers from our Partners